"A life changing experience that brings tremendous personal growth and fosters the creation of life-long friends." as expressed by many former WAA students.
Presently, the Western Art Academy is held annually at Schreiner University in Kerrville, Texas.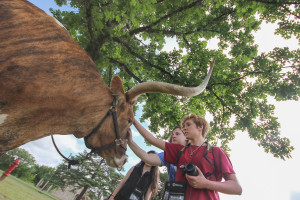 It is a rigorous four-week program of advance art instruction designed specifically for talented high-school students. The academy offers participants the rare opportunity to receive one-on-one instruction in painting and sculpting from well-known and well-respected professional artists.
The theme of the instruction centers on western heritage since academy students are primarily the top winners of Texas state rodeo art competitions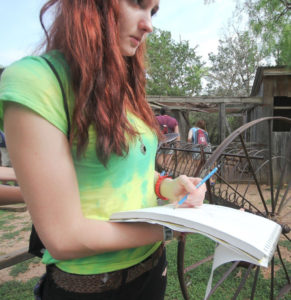 The curriculum includes classical principles of art and design through which students are encouraged to display their individual creativity. Students work inside the studio as well as outdoors in the beautiful Texas Hill Country. Subjects are drawn from their interactions with working cowboys and horses, longhorn steers, chuck wagon cooks, mountain men, Native Americans, Hispanic settlers, Texas Rangers and local wildlife. They visit historic sites and living history centers to further their research in the history of the American west.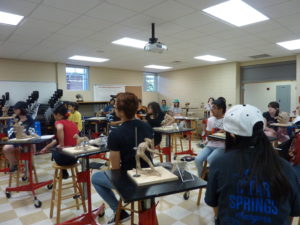 Class time is divided equally between sculpting and painting. All art supplies are provided as well as housing, meals, tuition, field trips and after-hour entertainment. Classes are held Monday through Saturday. In addition to immeasurably increasing the students' art skills and knowledge, the program also provides the opportunity to experience college life and prepare students for the future.
It is the combination of traditional studio art taught by exceptional artists, the secure environment provided by Schreiner University and the academy staff, and the length of the program, that creates a unique opportunity for young artists that cannot be found elsewhere in the United States.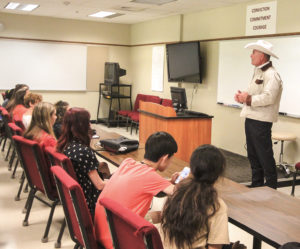 Academy Mission
In preserving and promoting the heritage of the American West, the Western Art Academy at Schreiner University serves as a bridge between the past and the present, insuring that the legacy of the American West will be preserved for the future by educating young artists about this rich cultural heritage through artistic expression and proven principles of art and design.
Goals of the Western Art Academy
To provide in-depth training in the classical principles of art through hands-on training in sculpture and painting with Western heritage and culture as subjects.
To gain knowledge about the foundry process in traditional sculpting.
To assist individual students to achieve greater artistic skill and creative insight.
To promote a practical understanding of skills needed to achieve a career as an artist in the 21st century.
To acquaint students with the history of American Western Art, including the impact of influential Western artists, and through study of works in the permanent collection of the Museum of Western Art; in area art galleries and artists' studios; and in private collections and historic living history sites.
To encourage each student's growth through personal responsibility and self-discipline.
To provide elective and transferable university credit.